This easy Apple Snack is a yummy balanced snack for after-school, before bedtime or before a sports event!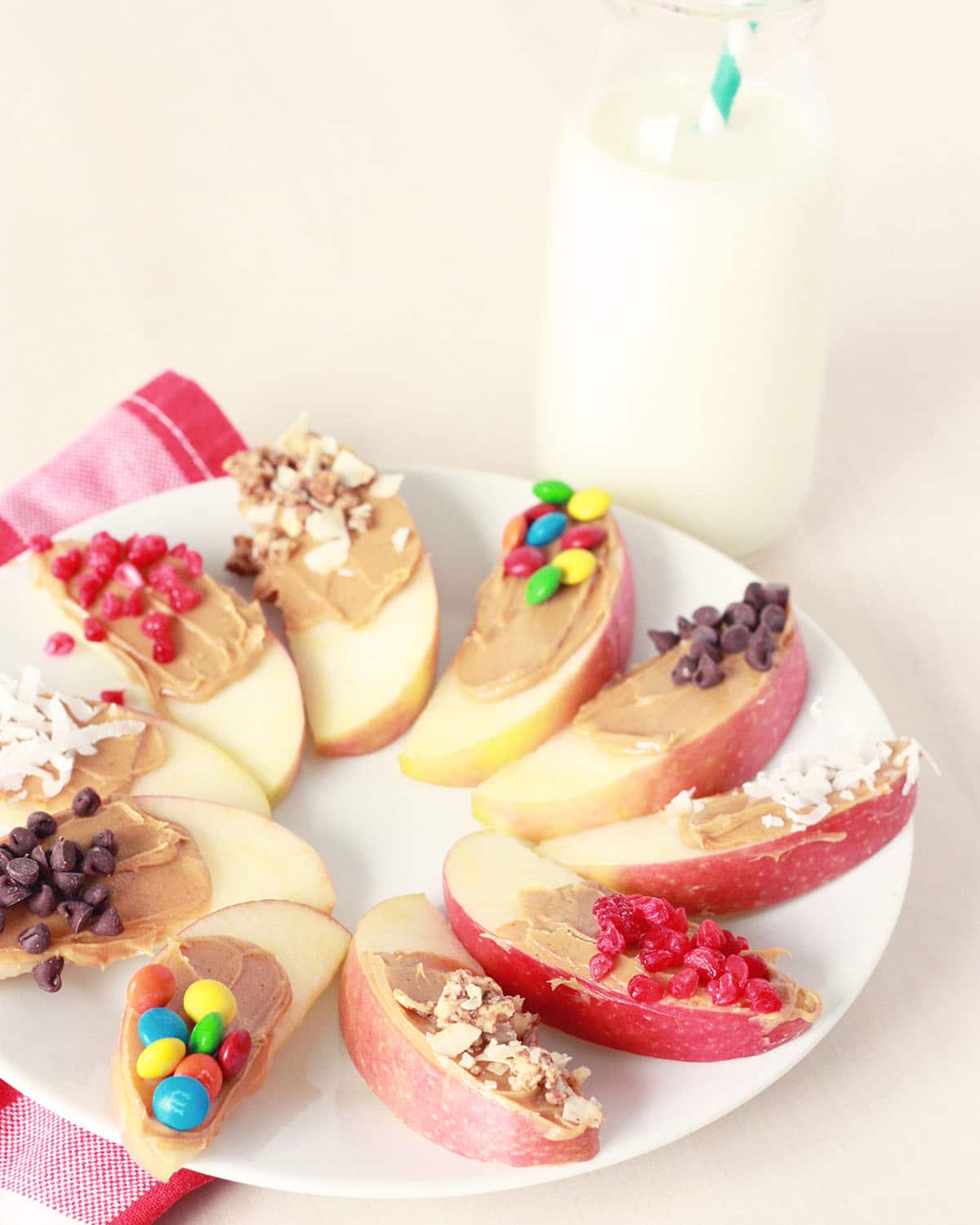 Apples Wedges Snack
Fruit, with its natural sweetness, fiber, low calories, and variety of minerals and vitamins is a great snack especially when paired with a protein. You can include a variety of toppings and flavors and let your kids make their own. When kids have some autonomy with food choices, research shows they are much more likely to eat better.
Apples and peanut butter make a perfectly balanced snack with carbs + protein and vitamins and minerals. This balance helps kids to feel fuller longer, and also gives them the sustainable energy they need to play, do homework, or practice for sports, dance and other athletic activities.
How to Make Apple Snacks
To make this apple snack, you only need two things. You need a spread (or a dip) and a topping.  We have used a variety of spreads including:
Slice an apple. This is my favorite apple slicer because it makes smaller slices that are easy for kids to bit into.
Soak in a bowl for a few minutes with cold water and a few drops of lemon juice.
Dry thoroughly before attempting to put on any spread .
Spread either all natural peanut butter, or your favorite nut butter.
Press into a bowl of toppings or sprinkle on top of the nut butter. Enjoy!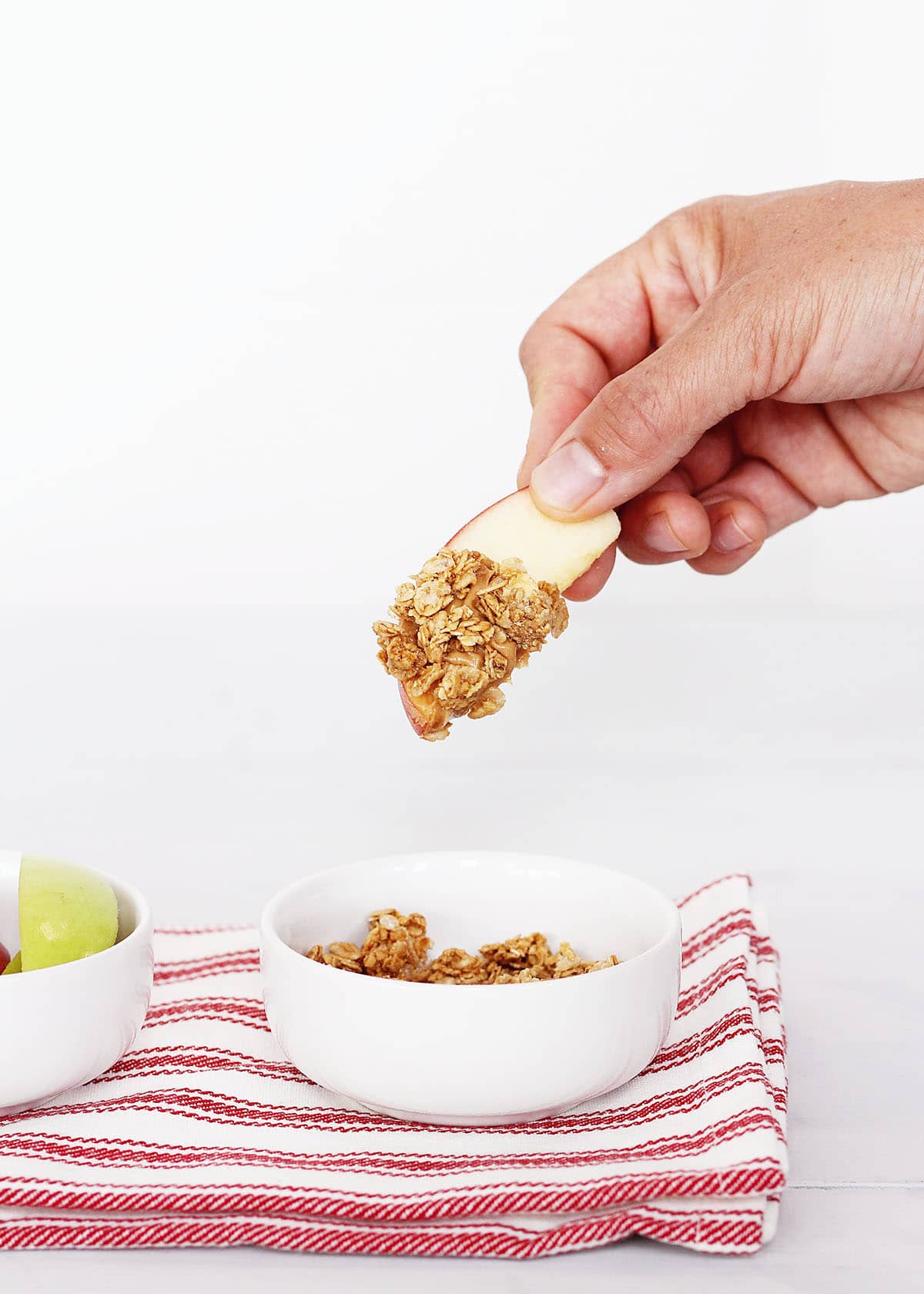 What are the Best Toppings for Apple Snacks?
Spreads:
Peanut butter: Peanut butter is great because it balances this snack with some protein from the nuts.  You can make your own peanut butter, or find some commercial peanut butter that has one ingredient: Peanuts!
Almond butter: Like peanut butter, almond butter also includes protein, and makes a great dip or spread for apples. We have a recipe for gourmet almond butter which you've got to try!
Yogurt: We like flavored fruit yogurts, but plain or vanilla also taste great on apples, depending on what your toppings will be.
Nutella:
Sunflower butter: If your kids have an allergy to nuts, our cinnamon sunbutter recipe is out of this world!
Pecan butter: Try this pecan butter for a different dip or spread! 
Topping Ideas:
shredded coconut
mini m&ms
granola
crushed nuts
mini chocolate chips
crushed graham crackers
freeze dried fruit
sunflower seeds
toasted wheat germ
raisins or craisins
ground flax
sliced almonds
cinnamon
white chocolate chips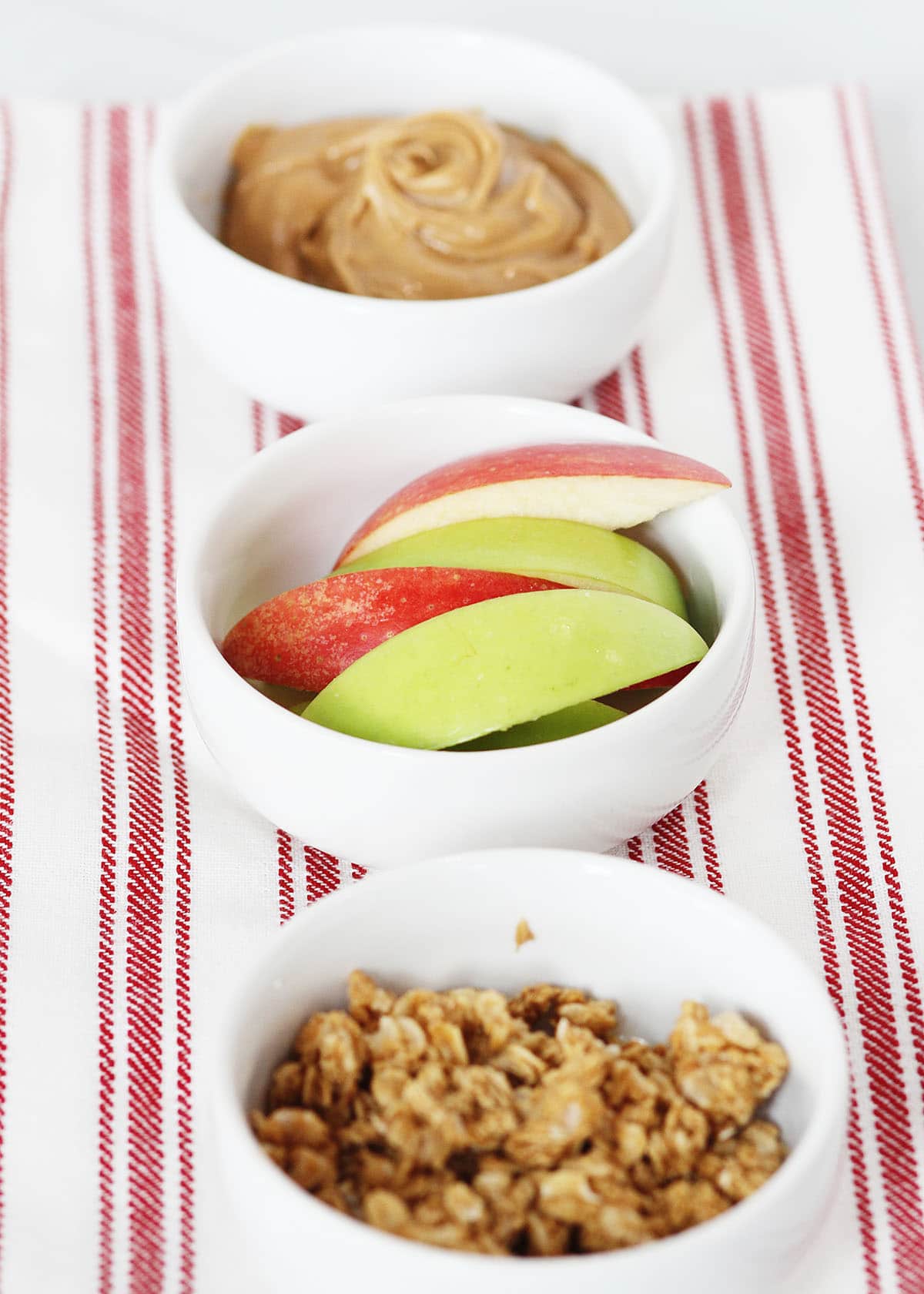 Questions and Tips for Making Apple Wedge Snacks
What is the best way to keep apples from turning brown? Soak apple slices in a solution of saltwater with a ratio of 1/2 tsp kosher salt per cup of water for up to 10 minutes.
Are apples and peanut butter a healthy snack? The balance of apples and peanut butter together create a satisfying and healthy snack. Apples provide a source of sustainable carbs and fiber, while peanut butter offers additional fiber plus a hefty dose of healthy fats and protein to keep you full and satiated.
How to get peanut butter to stick to apples? If you soaked your apples, simply dry them off with a paper towel before spreading the peanut butter.
What is the best apple slicer? My personal favorite is this slicer.
More Favorite Easy Snacks
15 Healthy After School Snacks – Stuck in a snack rut? Prep a few of these healthy after-school snacks ahead of time for to serve snacks that are fresh, fun, and healthy. 
Nut Free Chewy Homemade Granola Bars – These Nut Free Homemade Granola Bars are delicious and chewy with just the right amount of sweet. Perfect for kids with nut allergies or kids who want a yummy snack!
Chia Seed Energy Bites – Avoid getting HANGRY with our super delicious Chia Seed Energy Bites.  These little bites of goodness are just the ticket for a quick and healthy snack.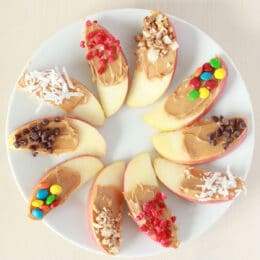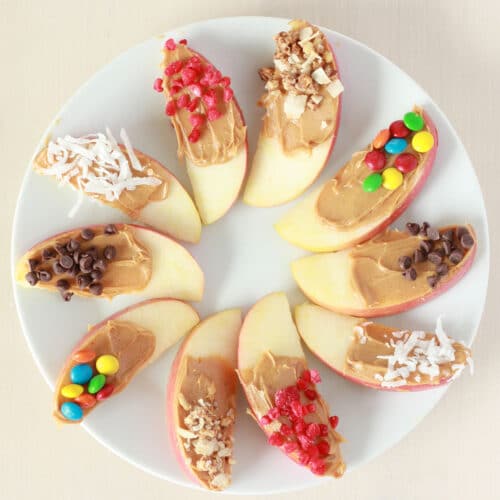 2

medium

apples

4

tablespoon

peanut butter

Topping Ideas: granola, shredded coconut, mini m&ms, crushed nuts, mini chocolate chips, freeze dried fruit, sunflower seeds, raisins, craisins, ground flax
Slices apples.

Soak in a bowl for a few minutes with cold water and a few drops of lemon juice to prevent browning if you aren't going to eat them right away.

Spread each slice with peanut butter or your favorite nut butter.

Press into a bowl of toppings or sprinkle on top of the nut butter. Enjoy!
Serving: 4wedges | Calories: 143kcal | Carbohydrates: 16g | Protein: 4g | Fat: 8g | Saturated Fat: 2g | Polyunsaturated Fat: 2g | Monounsaturated Fat: 4g | Sodium: 70mg | Potassium: 188mg | Fiber: 3g | Sugar: 11g | Vitamin A: 49IU | Vitamin C: 4mg | Calcium: 13mg | Iron: 1mg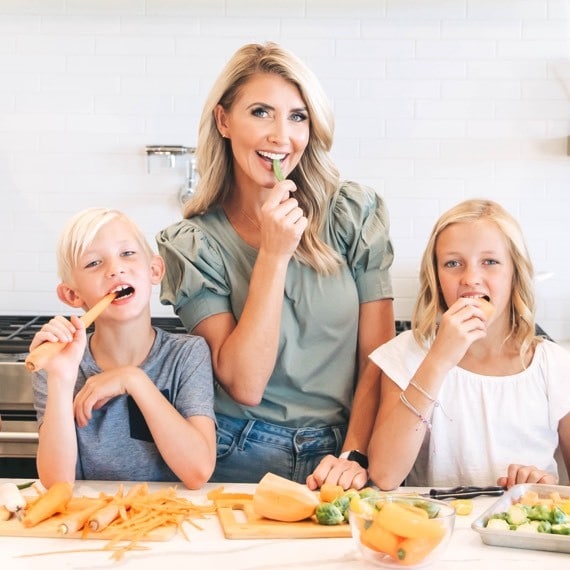 Natalie Monson
I'm a registered dietitian, mom of 4, avid lover of food and strong promoter of healthy habits. Here you will find lots of delicious recipes full of fruits and veggies, tips for getting your kids to eat better and become intuitive eaters and lots of resources for feeding your family.