This post may contain affiliate links. As an Amazon Associate, I earn from qualifying purchases. Please read my disclosure.

It isn't brunch without a short stack of pancakes! Almond milk pancakes are quick and simple, with just a handful of ingredients and no buttermilk. These fluffy pancakes disappear quickly! Gluten-free & vegan option!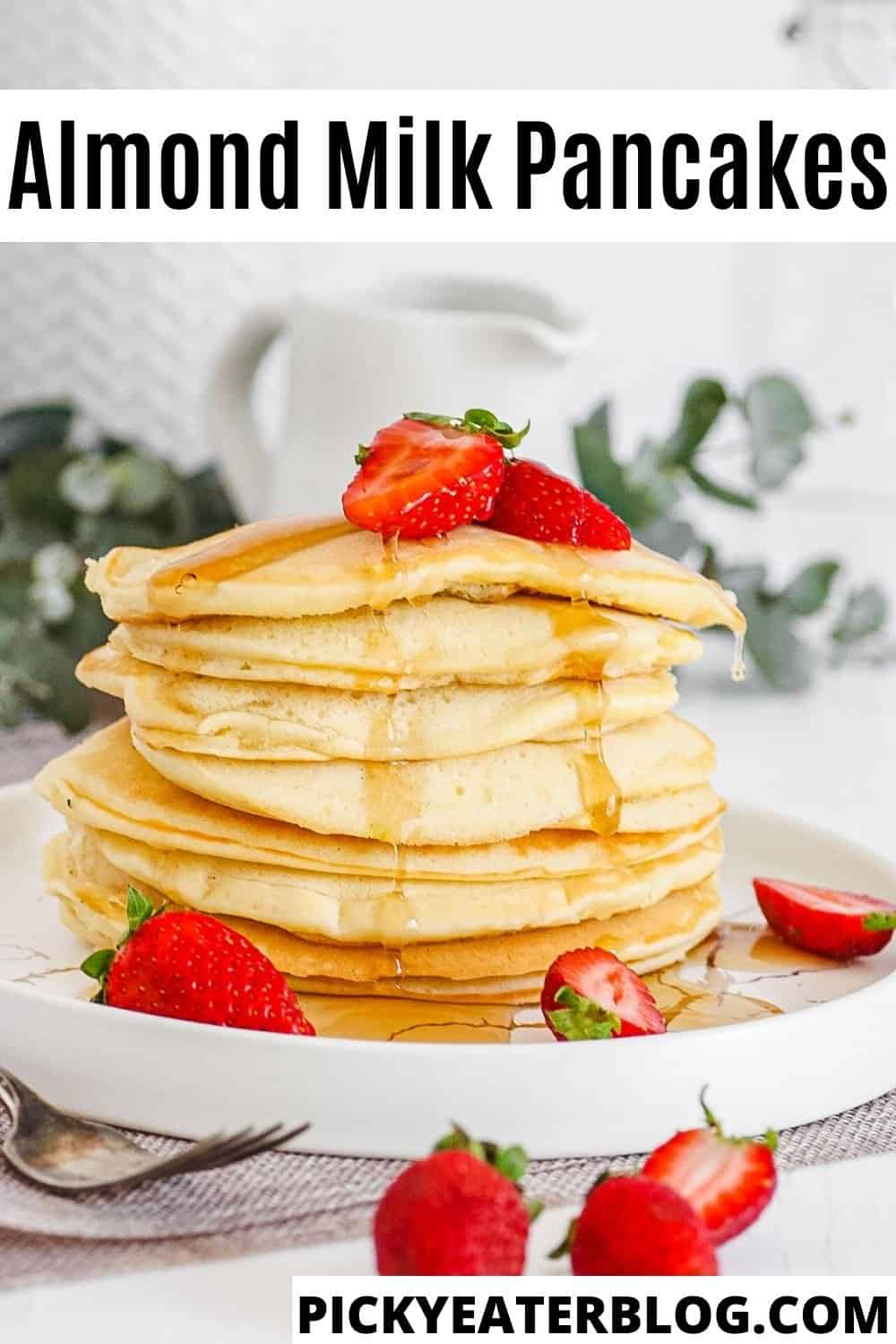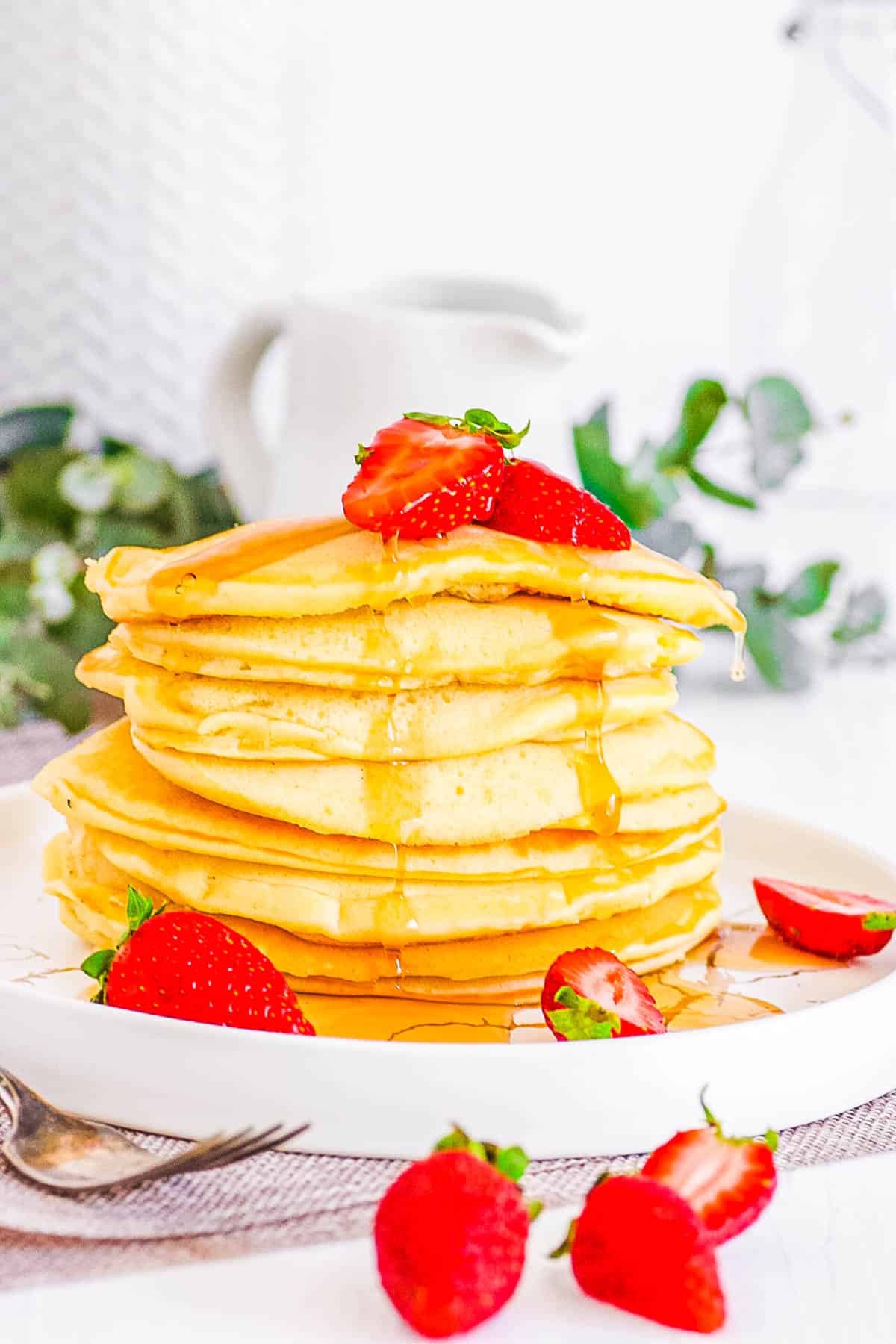 Fluffy almond milk pancakes are a staple in our house. They taste just as good as buttermilk pancakes, but with heart-healthy almond milk. If making these from scratch on a busy morning feels daunting, make a double batch on the weekend and freeze the leftovers. Reheat in the microwave and breakfast is ready! I can't even make frozen waffles that quickly.
Latest Recipe Video!
My kids devour these pancakes made with almond milk. They can't even tell the difference between these breakfast cakes and a traditional pancake recipe, and neither can I!
They are light, fluffy, and dangerously good. If you want dairy-free pancakes, just swap the melted butter for equal amounts of vegetable oil, olive oil, coconut oil or even vegan butter. You won't even notice!
This is my favorite pancake recipe and I know it will become your favorite too. Top them with a hefty drizzle of maple syrup and enjoy!
👩‍🍳 Why This Recipe Works
Tastes just like regular pancakes
Way better than pancake mix!
Easy recipe with only 7 ingredients
My entire family devours them (yours will too!)
Only 5 minutes of prep time
Healthy almond milk pancakes recipe
No dairy milk necessary
🥘 Ingredients
This easy pancake recipe with almond milk requires pantry staples found at your local grocery store. Find the full recipe with nutritional information in the recipe card below.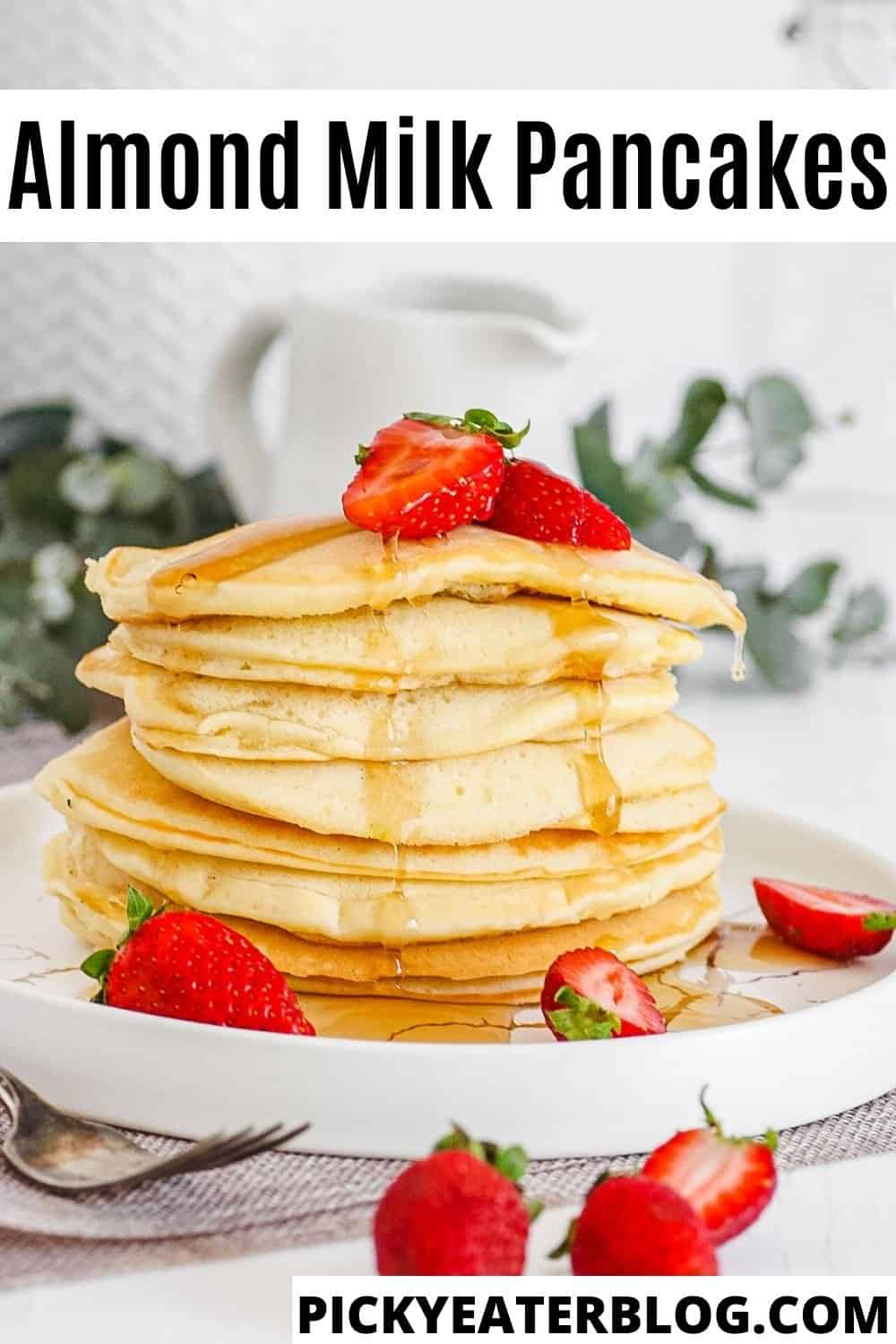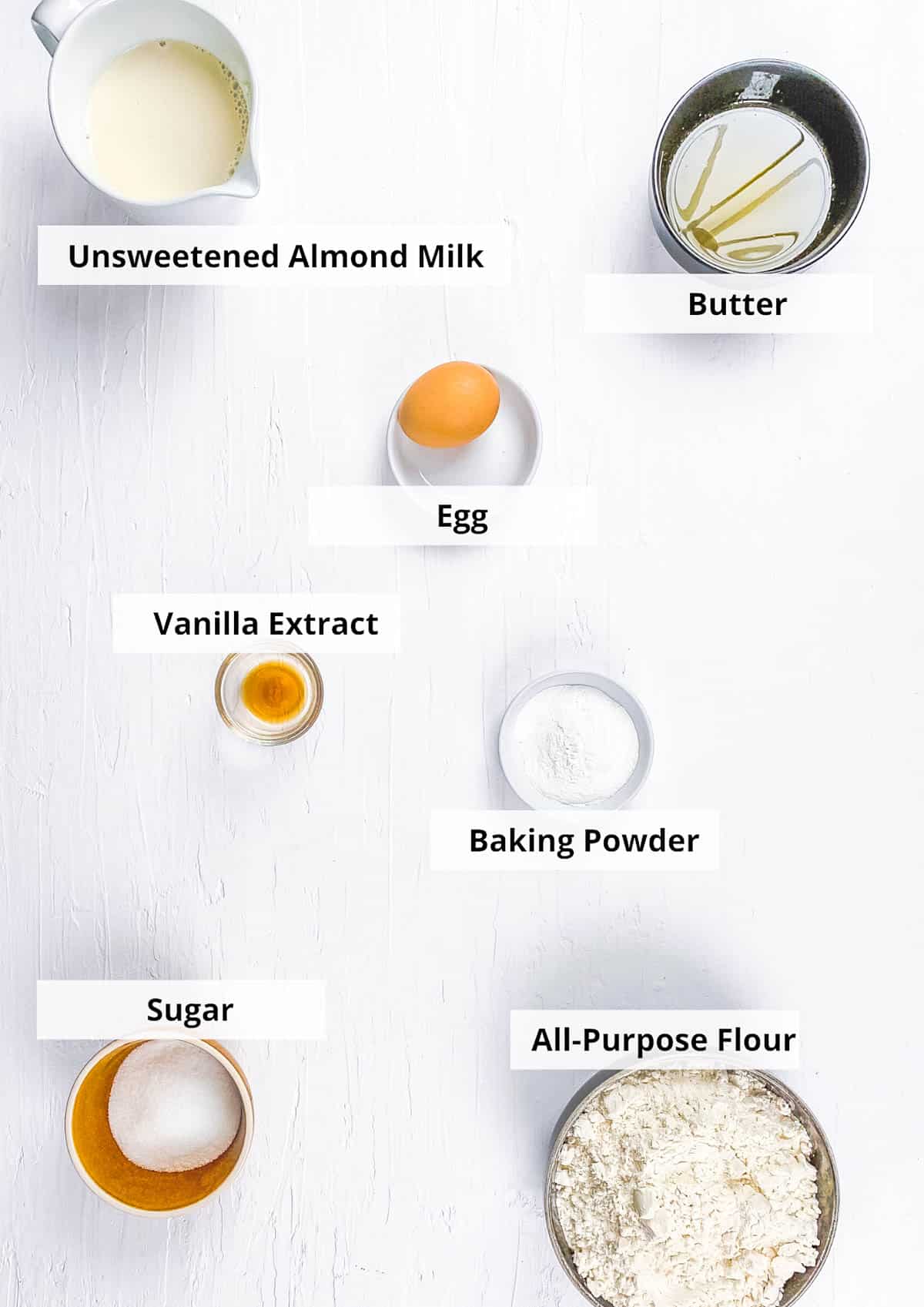 All-Purpose Flour: All-purpose flour creates classic pancakes with a light texture. For a healthier take, swap out 1/2 cup of the flour with whole wheat flour. Avoid using almond flour though. Almond flour pancakes have a different ratio of flour to milk.
Baking Powder: Baking powder is a leavening agent that creates carbon dioxide bubbles which force the batter to rise. If you're in a pinch, make your own with one part baking soda, two parts cream of tartar.
Sugar: A small amount of white sugar makes the best homemade pancakes! Trust me on this one. If you prefer a natural option, use coconut sugar or maple syrup.
Unsweetened Almond Milk: The right amount of milk is key to a great pancake! I prefer vanilla almond milk, but any dairy free milk like soy milk, oat milk, coconut milk all work great! If you don't need these to be milk free, regular milk works too!
Egg: Eggs provide structure so these breakfast cakes don't fall apart.
Vanilla Extract: For a sweet vanilla essence!
Butter: Butter creates moist pancakes with an airy texture.
📖 Variations
The best almond milk pancakes are easy to customize! Here are a few delicious variations to try.
Toppings: The opportunities are endless! Peanut butter, fresh fruit, dairy free chocolate chips, chopped nuts, nutella, brown sugar, blueberry compote, fresh blueberries, strawberries, turbinado sugar, whipped cream, banana, granola, maple syrup, sliced bananas, a sprinkle of cinnamon, and butter are a few great ideas!
Dairy Free Pancake Recipe: Swap the butter for the same amount of vegetable oil, coconut oil, or canola oil. Olive oil works too but it has a bold flavor.
Egg Free Pancake Recipe: Swap the egg for a flax egg!
Gluten-Free Dairy-Free Pancakes: Replace the all-purpose flour with a 1:1 gluten-free flour blend. I recommend Bob's Red Mill 1:1 All-Purpose Gluten-Free Flour. Swap the melted butter with vegetable oil.
Milk Free Pancakes: For milk-less pancakes, replace the milk with water. If the batters a bit thin, add a tablespoon or two of flour.
Vegan Option: Replace the egg with a flax egg and the butter with vegan butter.
🔪 Instructions
Making pancakes with almond milk is easy! Here's how to do it.
Blend Ingredients: There's no need to combine the wet ingredients separate from the dry ingredients. Just dump all the ingredients into a blender and blend until smooth! You can also use a mixing bowl to mix the ingredients – you'll just need a whisk and a large bowl and it'll take a little longer to mix completely.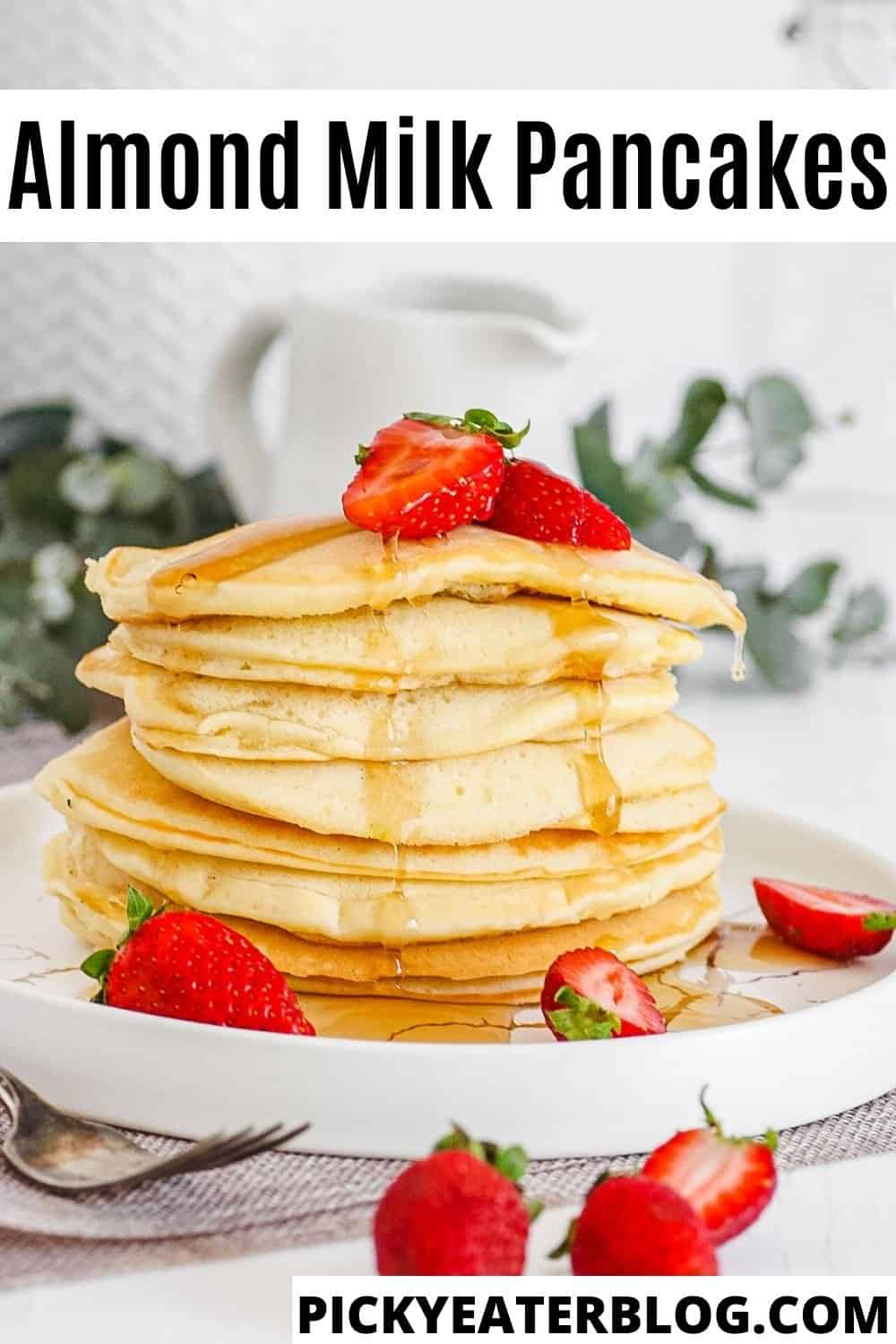 Let Pancake Batter Rest: Let the batter rest for 10 minutes. This allows the baking powder to work its magic.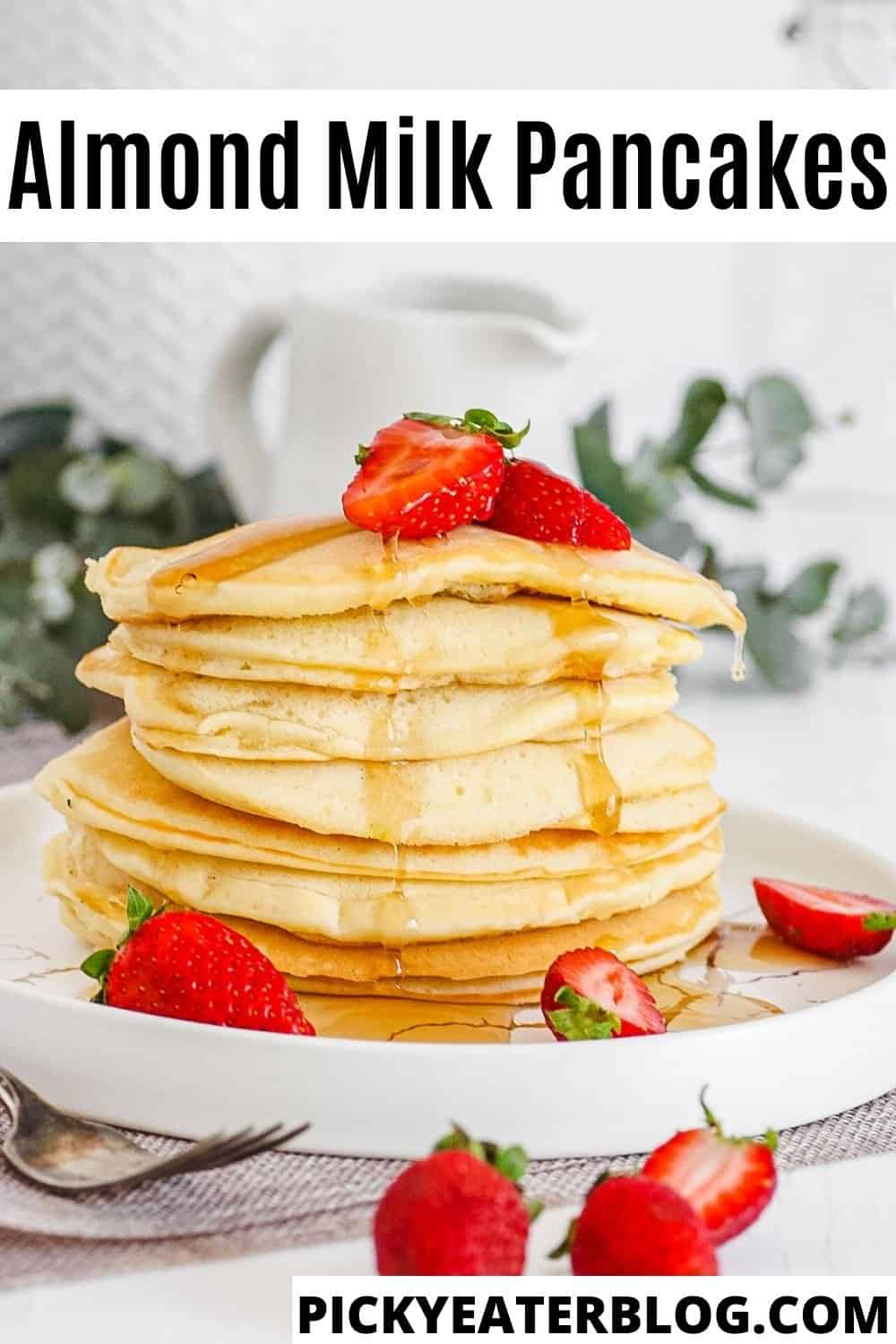 Cook Pancakes: Heat a large nonstick skillet over medium heat. Pour 1/4 cup of batter into the skillet and cook until small bubbles appear. The bottoms should be golden brown.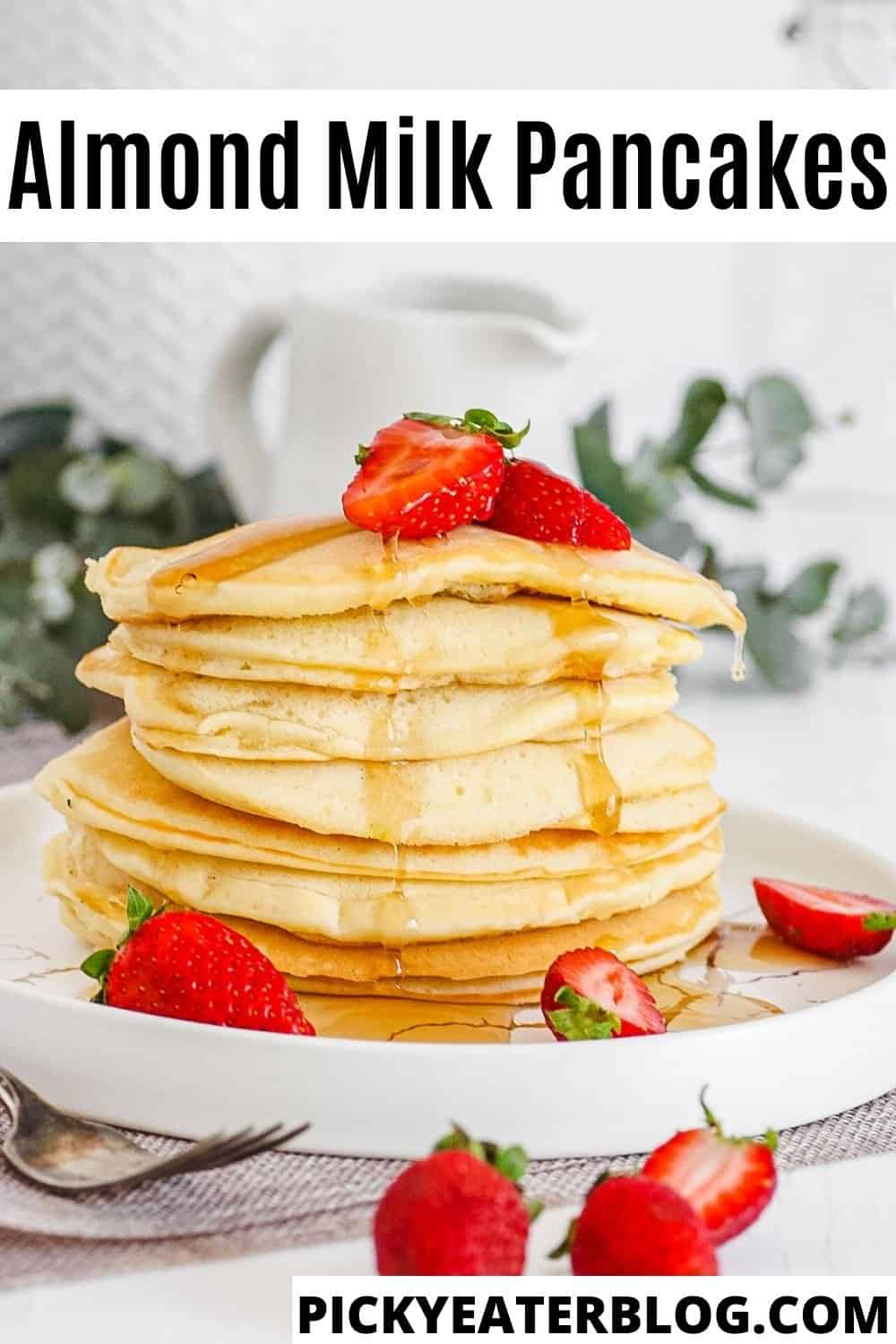 Flip Pancakes: Flip and cook for 3 to 4 more minutes, until the cakes are cooked through. Repeat until all the batter is gone.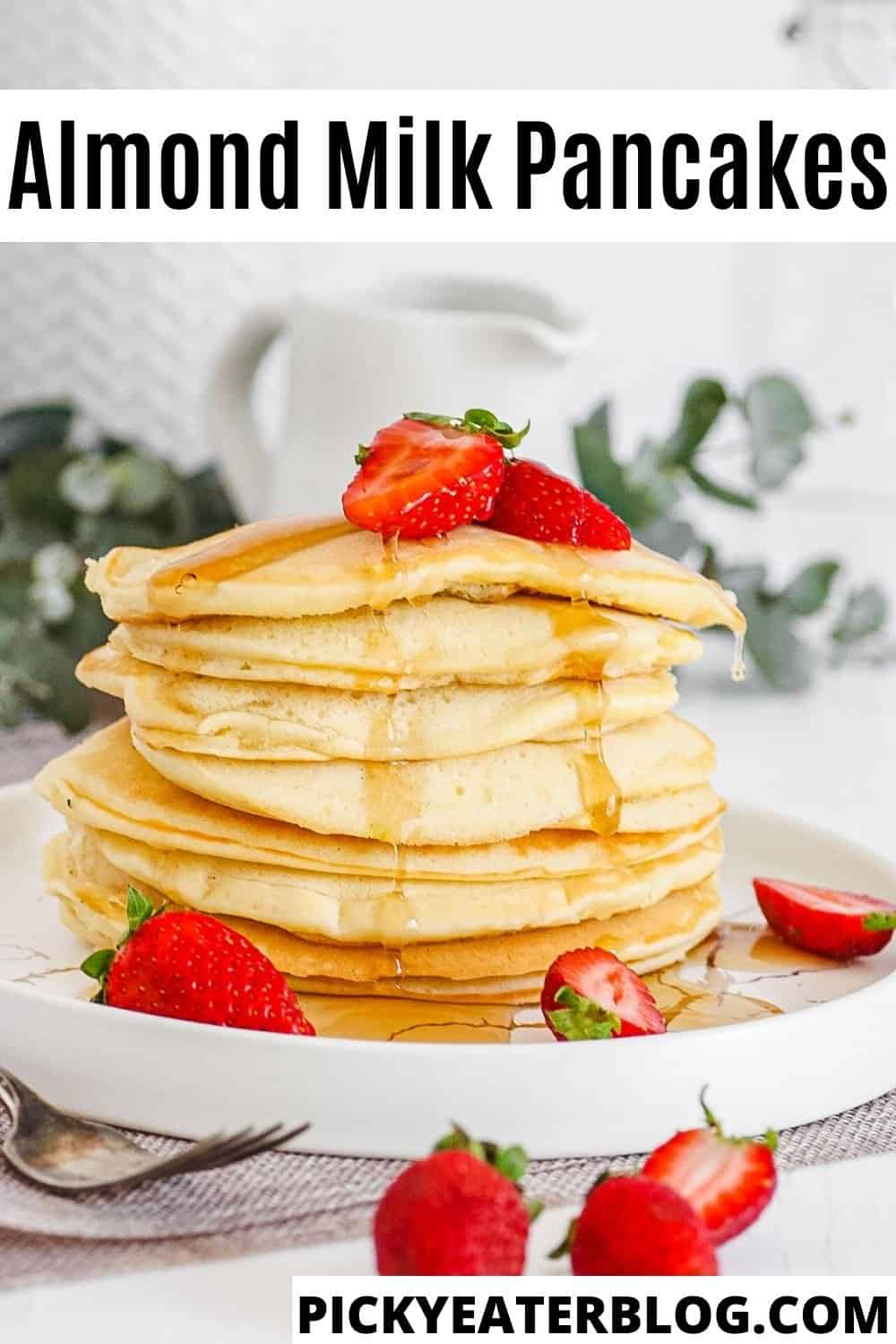 Serve: Serve these easy almond milk pancakes with your favorite toppings!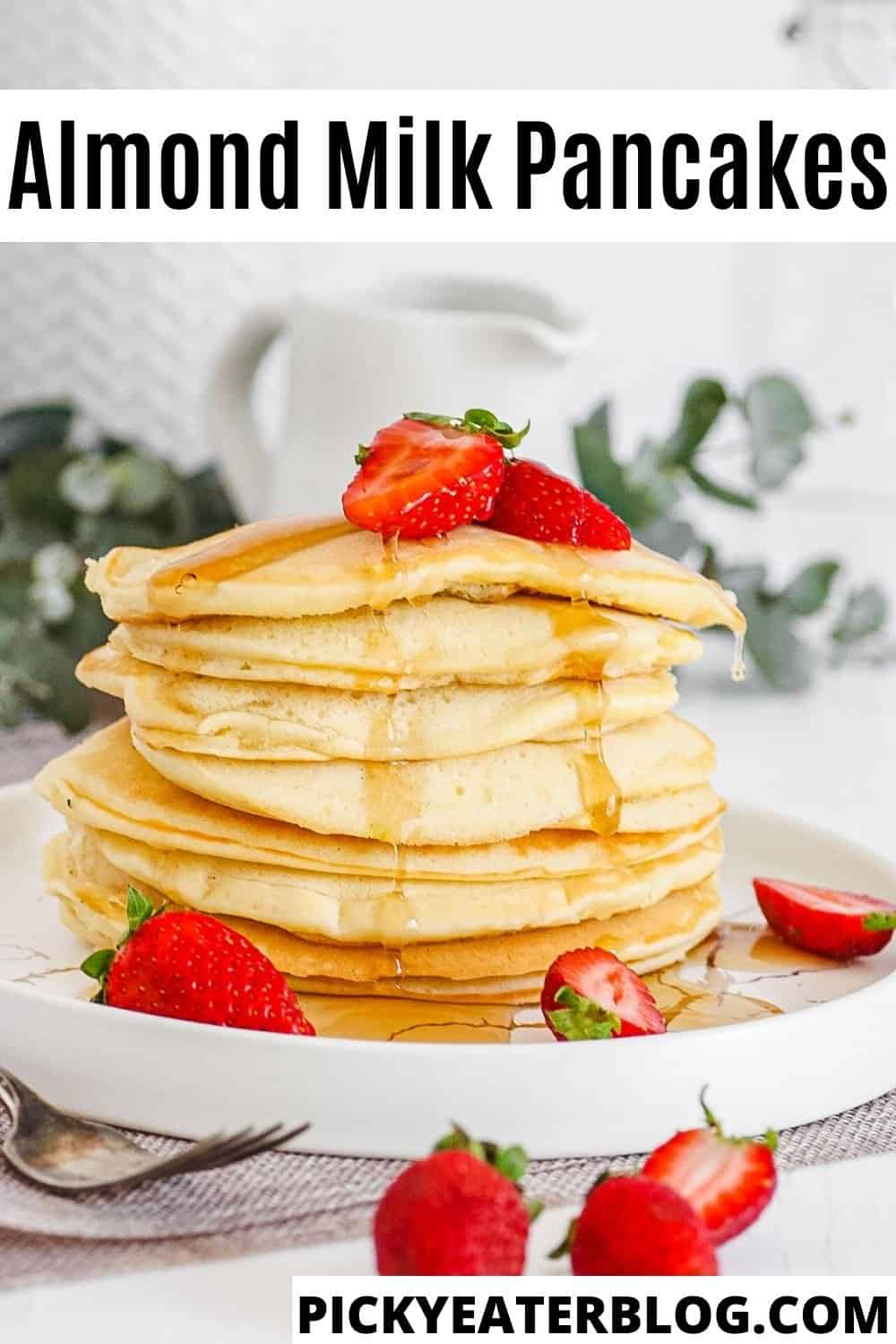 ❓ Recipe FAQs
Are these pancakes dairy free?
These delicious pancakes aren't dairy-free, but they're easily made so! Eggs are NOT dairy products, but butter is! Swap the melted butter for an equal amount of vegetable oil. This will create non-dairy pancakes that are light, moist, and fluffy.
What can I use instead of milk in pancakes?
Any plant-based milk can be used in pancakes! I prefer almond milk for its mild flavor and creamy texture, but soy, cashew, rice, and oat milk are great options! If you're in a pinch, water works as well.
How should I store these pancakes?
Let these breakfast cakes cool and then store leftovers in the refrigerator for up to 4 days. Reheat them in the microwave in 20-second increments until warmed through.
Can I freeze pancakes?
Yes! Homemade pancakes with almond milk freeze well. Place the breakfast cakes in a freezer-safe ziptop bag and freeze for up to 3 months. Reheat in the microwave in 20-second increments until warmed through. Don't cook them too long or they can get chewy.
💭 Expert Tips
Wait until the skillet is up to temperature before you add the batter.
Let the batter rest! Baking powder activates once it's mixed with wet ingredients. Rested batter will create fluffier pancakes.
The pancake batter can be made 24 hours ahead of time and stored in the refrigerator in an airtight container.
If these griddle cakes brown too quickly, turn down the heat. If the heat's too high, the bottoms will burn before the insides can cook.
Use a thin-set rubber spatula for easy flipping!
For best results, use a nonstick pan so the griddle cakes don't stick. I like to spray the pan with cooking spray too.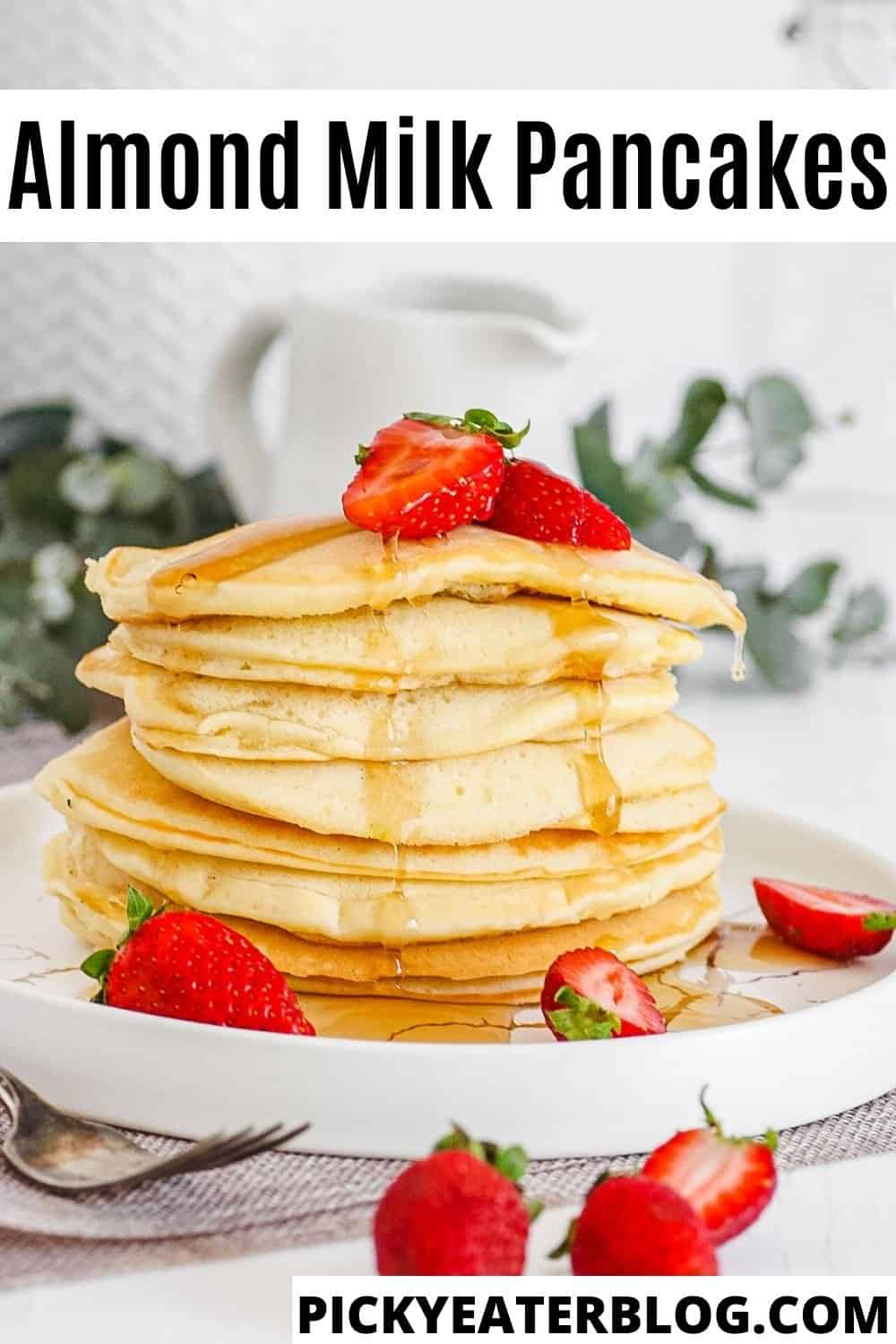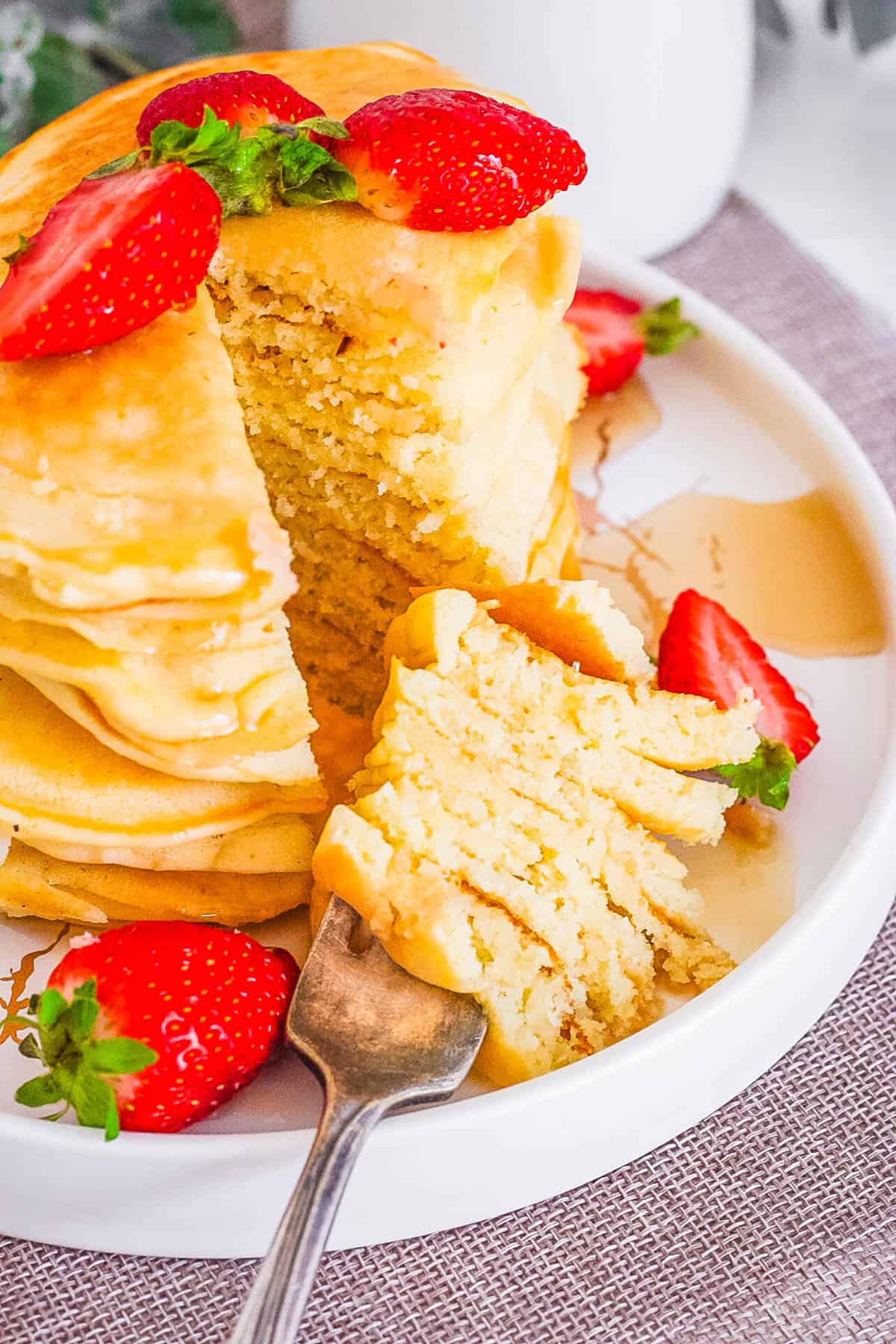 🥞 More Pancake Recipes!
📋 Recipe Card
Almond Milk Pancakes
It isn't brunch without a short stack of pancakes! Almond milk pancakes are quick and simple, with just a handful of ingredients and no buttermilk. These fluffy pancakes disappear quickly! Gluten-free & vegan option!
Servings: 10 pancakes
Calories: 129kcal
Make sure your egg is at room temperature – this prevents the batter from tasting too eggy.
To make these pancakes gluten-free, sub the flour for gluten-free flour.
To make these pancakes dairy-free, sub the butter with light tasting oil or a vegan butter.
To make these pancakes vegan friendly sub the egg for a flax egg, and use a light tasting oil (like coconut oil) or vegan butter instead of the butter.  
Pancake batter can be made 24hrs before using and stored in an airtight container in the fridge.
Pancakes, once cooked, can be stored in the fridge for up to 4 days.
Serve with your favorite toppings such as maple syrup, lemon juice, berries, nut butter, whipped coconut cream or even crushed nuts.
Serving: 1pancake | Calories: 129kcal | Carbohydrates: 17g | Protein: 2g | Fat: 5g | Saturated Fat: 3g | Polyunsaturated Fat: 1g | Monounsaturated Fat: 2g | Trans Fat: 1g | Cholesterol: 29mg | Sodium: 76mg | Potassium: 106mg | Fiber: 1g | Sugar: 5g