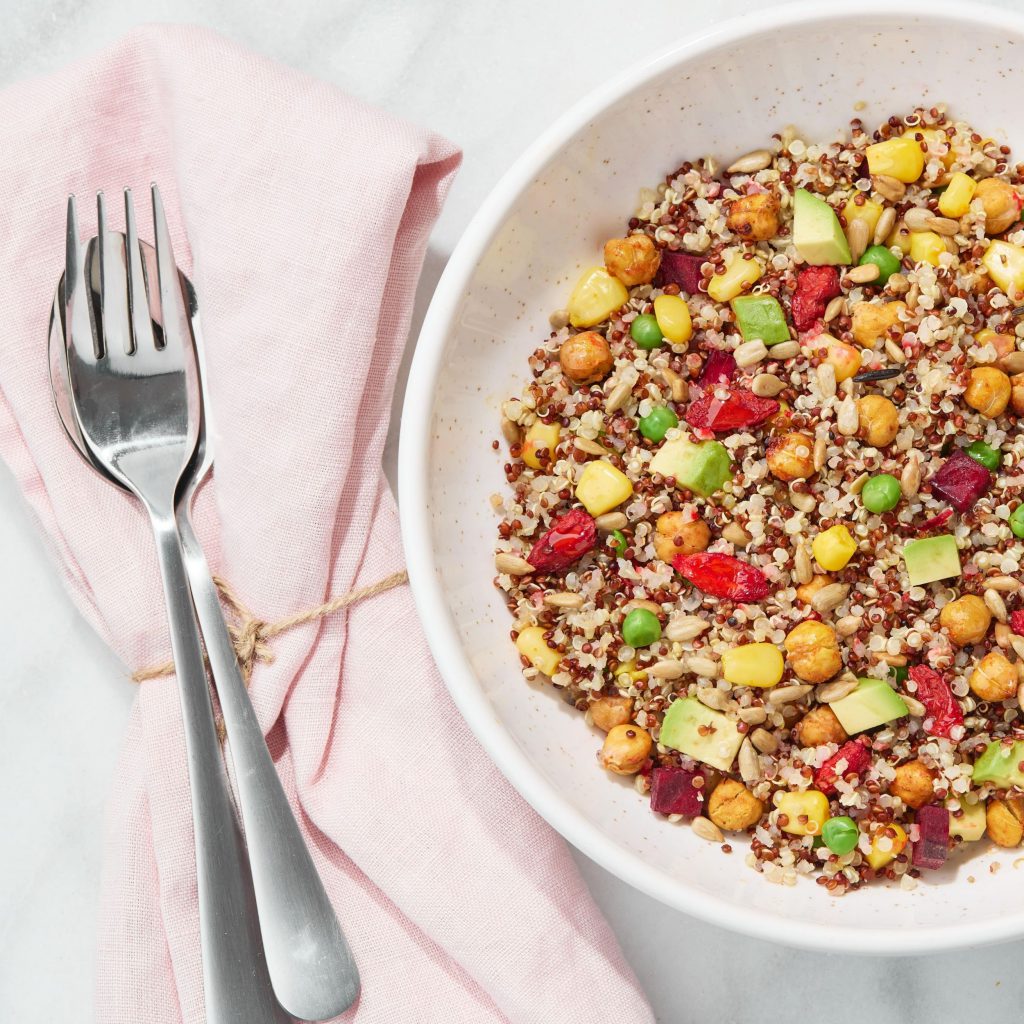 An apple a day keeps the doctor away – but is that enough? Eating enough fruits and vegetables every day can have a massive impact on your overall health. Not only can they aid in weight loss, but they provide your body with essential vitamins, minerals, fiber, and antioxidants(1), which together can reduce inflammation, improve gut health and lower your risk of chronic illness. A new study shows that "5 daily servings of fruits and vegetables, eaten as 2 servings of fruit and 3 servings of vegetables, may be the optimal amount and combination for a longer life" – A LONGER LIFE! 
But Why is it Important?
For starters, fruits and veggies like apples, oranges, and berries are low in calories and high in fiber. That means they not only provide volume, but they take longer to digest, making you feel full for longer. But keep in mind – not all fruits and veggies offer the same health benefits. Studies show that starchy vegetables, potatoes, and fruit juices are not associated with a reduced risk of death from chronic diseases than others. Leafy greens like spinach and kale alongside berries, citrus fruits, and carrots, showed benefits (2). 
Now that I've told you the secret to a longer and healthier life let's look at the facts. How many fruits and veggies do you eat in a day? If you're not stoked about strawberries or cool with cucumbers, you're not alone. According to Statistics Canada, only 40% of Canadians consume at least 5 servings (400 grams) of fruits and vegetables daily(3).  But don't worry, Revive Superfoods has 5 easy tips to boost your daily intake of fruits and veggies! 
1. Make it a Priority
Don't know what your intake is like? Write down a list of fruits and veggies you eat in a day. If it's not 400 grams per day, try to include fruits and veggies with every meal/snack. Once you make this a habit, you can start to plan out your day/week, ensuring you buy enough fresh produce to have at home for each meal. TIP: have frozen fruits and veggies at home in case you run out of the fresh stuff! 
2. Don't Play Hide and Seek
 After a massive grocery run, don't push the fruits and veggies to the back of the fridge. If it doesn't fit in your crisp drawers, make sure you keep those delicious berries front and center so you can see them every time you open the refrigerator door! Even better – put your fruit basket in the middle of your table for quick access on the go!
3. Ready to GO!
Make it even easier on yourself, and have some raw veggies chopped up for an easy snack. Things like celery sticks, baby carrots, and apple slices are great ways to manage your cravings, especially if it's pre-planned and ready to go! Not to mention, chopped, or sliced veggies makes it easier to pair with your favorite dips! Apples and peanut butter? Celery sticks with hummus? YUM!
4. Mix It Up
Try eating your favorite veggies in various ways – raw, cooked, or steamed, whatever works! I absolutely adore onions – not a popular opinion, I know. Eating onions the same way every day can get boring, so I try to mix it up! I like to sauté onions with my eggs in the morning, toss raw thin slices into a Greek salad for lunch, and add them to a roast for dinner. Mixing up how you prepare your veggies will change the flavor and pair it easily with different meals for any time of day! 
5. Make it a smoothie!
Smoothies are the perfect way to pack in 2-3 more servings of fruits and veggies a day! Revive Superfoods has over 20 delicious smoothies to choose from. Adding a smoothie to your daily routine is the perfect way to ensure you are getting your daily intake of fruits & veggies every single day. So get started today!
Check out some of our most popular smoothies such as Liquid Gold and Strawberry Zen each made with 8+ fruits, veggies and superfood ingredients.
References:
Written By Sara Prodanos (@sara.prooo). Sara is a Personal Trainer and Physical & Health Educator that is passionate about building strength from the inside out and doing things that make you feel good!